School Assembly
You is GOOD!
Using jokes, improv games, and sincere stories from my own life, I will drive home the following points:  
1) YOU are good. 
"Your constructive ideas are worth sharing, your productive passions are worth pursuing & your healthy example is worth setting."
2) YOU (the idea of diverse & cooperative community) IS GOOD.  
"It takes all of YOU to make the best ME possible and you need all of US to make the best YOU possible"
By the end of the presentation your students will have laughed (& maybe cried a little) & will be processing how they have the opportunity to make their school experience better for themselves and for those around them.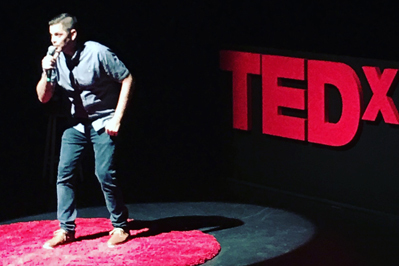 Cliff manages to incorporate funny things into everything he does.
Gabriel Gresham
Former W.J. Mouat High School Student
Cliff hit home. I appreciated him coming to our school and really help us set a tone for this school year. I remember a veteran teacher, Ms. Hague told me "That was one of the most powerful messages I have heard from a speaker." Cliff hit us with a powerful story that needed to be shared. He made us laugh, cry, think and reflect. Cliff challenged us to take action, to connect and reach out.
Scott Johnson V.P.
H.D. Stafford Middle School, Langley B.C.
The staff and Management at Sevenoaks has very much enjoyed working with Clifford due to his humor and zest for life. He works well with various ages, and is excellent with our toughest critic…teenagers! He can make anyone laugh and entertains so many to bring a smile to their face. I highly recommend Clifford Prang as an entertainer for the young and young at heart.
Tricia Dumouchel
Marketing Director Sevenoaks Shopping Centre
Cliff was age appropriate, inclusive to our South Asian population & funny!
Sandra Schols
Eugene Reimer Middle School - Vice Principal
Just thought I would let you know that both my children who attend Mouat High School thought you were one of the best presenters they had heard of and kept saying how amazing, funny and inspiring you were. Thank you for being a good role-model to them.


Lise Buitendyk
Cliff was engaging and funny with a very clear message of the importance of community. Due to the overwhelming positive response from our students we made Cliff a key part of our orientation team. He created an easy atmosphere that spoke to building networks in diverse communities and connecting personal development with the educational journey. One student said "Cliff Prang was so awesome and made me feel less awkward about today."
Jill Harrison
University of the Fraser Valley - Student Life Coordinator
I have heard nothing but positive things from staff and students. You engaged the audience with your humour and anecdotal stories. You carried the audience through the highs and lows of your personal journey, causing them to reflect on their own experience and choices. In short, you were awesome.
Erin McAstocker
Rosedale Traditional School