I care to be funny.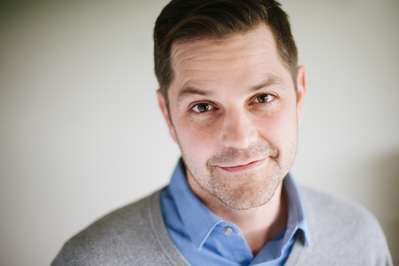 Since my early 20's people have been saying that I look like a young George Clooney. I'll take it. People have also compared me to Johnny Knoxville, which is a polite way of saying that I look like a Jack @$$. Fair point. 
Personally, I'd rather look like I am having fun and care about what I do, because I am and I do. I take the time to get to know you and your purpose because then I am better equipped to support and celebrate you and your people. Feeling warm and fuzzy yet?  
I'm 40 now and have been a lot of things including pastor, landscaper, retail sales guy, camp counsellor, friend, nemesis, failure, and champion. Currently, I am living my dream of being a professional actor/comedian and amateur stay-at-home dad. I live in Yarrow, BC, Canada with my wife and 3 kids. I like them. A lot. 
In between nearly peeing my pants and spitting my coffee I realized I was listening to the quality comedy you rarely get to hear nowadays. Funnier than the late night stuff on TV, funnier than the bar comedian. What was even more interesting in hindsight was that nothing Cliff said was offensive, objectionable or laden with curse words. That takes a whole new level of genius to pull off.
Neil Gaudet
Audience Member - Vancouver Island, BC.
I seriously cannot remember the last time that I laughed for twenty minutes straight. Not only were his jokes incredibly, tear-jerkingly funny, but his delivery and timing is impeccable! My face hurt from laughing so hard. This guy is amazing!!
Jenny Solar
Happy Family Movement - Kansas City, MO.
You can't be disappointed with a show produced by and featuring Cliff Prang. Not only is he funny and smart, his dedication to customer service is unsurpassed. Cliff will always go the extra mile to ensure your audience has a great experience and that he exceeds his client's expectations.
Scott. D. Campbell
Mennonite Central Committee - Advancement Director