Funny Brothers Improv
It's YOUR show!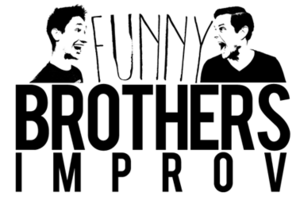 Live Improv Comedy is the best because YOU tell US what to do. It's unscripted, audience driven, on-the-fly, funny stuff. 
Cliff & Steven (that's us) have more than 30 years of combined improv experience (over 22 years with people paying us). We've performed hundreds of shows and have taught more than dozens of workshops (that's our way of saying there has been many, but we really have no idea just how many, because there have been so many). We are excellent at what we do, which is fantastic, because when you hire us, that makes you look super smart. 
Our Wellness Committee had the pleasure of bringing in Funny Brothers Improv for a "Laugh Thru Lunch" session. Cliff and Steven were entertaining and very comical! The audience was very much engaged and amused by their improv performance. What a great way to spend a lunch hour!
Nadine Power
Abbotsford Community Services - Wellness Committee
Cliff and Steven are an absolutely fantastic comedic improv duo. I would highly recommend them to anyone looking for clean, fun, hilarious, side-splitting comedy.
Blake Holenstein
Terrace Pentecostal Assembly - Youth Pastor
We hired Funny Brothers Improv for our annual Pastors & Spouses retreat in Princeton BC. They were great to work with and simply hilarious! Everybody loved them.
Gary Stephens
Lead Pastor - Abbotsford Vineyard Church
We had the great opportunity to have Funny Brothers entertain us at our comedy fundraiser event with about 300 people, They were an amazing hit for everyone, from teens to seniors and all in between. My Dad is not into comedy, but he was laughing as much or more than everyone else. It's hard to find entertainment who is VERY funny and good for all ages. Cliff & Steven are real professionals.
Jim Romeyn
My sides and face hurt from laughing so hard after witnessing the amazingness that is Cliff and Steven's improv. I'd go again and again and again just to laugh some more. Laughter is awesome.
Josh Solar
Hello Happiness Card Co. - Kansas City, MO.
Funny Brothers Improv did awesome! I like the fact that you guys kept all the jokes and everything really clean without having to use racist/offensive foul language in order to keep things funny. You guys are absolutely brilliant and loved how creative you were with each act.
Justin Lee
Audience Member - New York, New York.
These two guys made my day! Absolutely hilarious and so incredibly talented. I can not wait for another show. Thank you Steven and Cliff for sharing your talent and making all of us literally LOL. :)
Vidyuta Rangekar
Audience Member - Lexington, Kentucky.
Cliff and Steven are hilarious, creative and extremely talented. They did a great job of incorporating the audience into their performance in a way that seemed almost effortless. Watching them perform was a wonderful way to spend an evening.
Rachelle Rawlings
Audience Member - Houston Texas.