Take off your pants.
"Male.  Ethnically Ambiguous.  Average looking (i.e. no one will mistake him for a model).  Out of shape is preferred.  Shower scene so must be comfortable without his shirt on."  
These were the specs for my audition.  Thanks for the boost in confidence!  (note the good natured sarcasm)
When my awesome agent, Dylan, from Trisko Talent (and/or his super assistant Trixie) contact me with an audition, I jump.  I check dates and if I am good to go I say 'YES & Thank You!'  If I am not good to go, I shuffle the pieces to make sure I am good to go.  I want to be an actor.  Clarification: I AM an actor, but I want to be acting ALOT.  So, am I comfortable without my shirt on? Nope. Do my boobs bounce when I run? Yup (see this clip for a true story of this very fact). BUT, since I AM an actor... I CAN PRETEND TO BE COMFY WITHOUT MY SHIRT ON. No biggie.  
So, I get in the room, "Take off your shirt." Done deal. "Go ahead and take off your pants too..." Uhm... pants too? "... it will give us more to work with" Yup, you guessed it: A roach spray commercial.   
I was so thankful I had clean underwear on. That said, I wish I had my Kermit the Frog, Batman, or bright blue Orca underwear. Better yet...  My Christmas Thong would have made me a shoe in. HA! I am just thankful I HAD underwear on. 
What's the point?  Lots of people are okay without taking off their shirt, but I don't think anyone is really comfortable their pants off too. But, the reality is that we end up with our pants off all the time (please understand that I am mostly speaking figuratively now). Sure, we may be 'mildly' out of shape... or maybe you are rocking a hard body... it doesn't matter.  What matters is that we need to be able to stand in our discomfort and give the best performance possible. We are all imperfect or under qualified or whatever obstacle we may have, BUT we CAN be comfy even though we are not.  YOU ARE BIGGER THAN YOUR FEAR.  
I have told this story a few times now and my listeners are terrified and relieved all at the same time as I share. I dropped this at the What If Conference in Cancun in April and even called upon a volunteer to help me share it.  I learned that though it feels okay to be near a man without a shirt at a beach - it is WAY WEIRDER to be with a shirtless man in a conference room.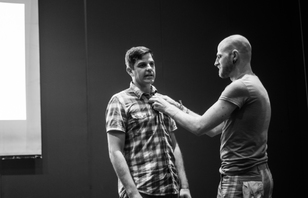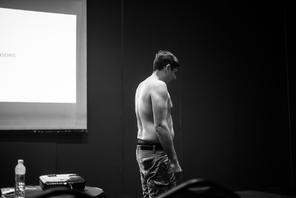 I also learned that the idea of finding comfort in ourselves is something we all want and by the end of the conference others 'proved' their courage by taking it even further than I had.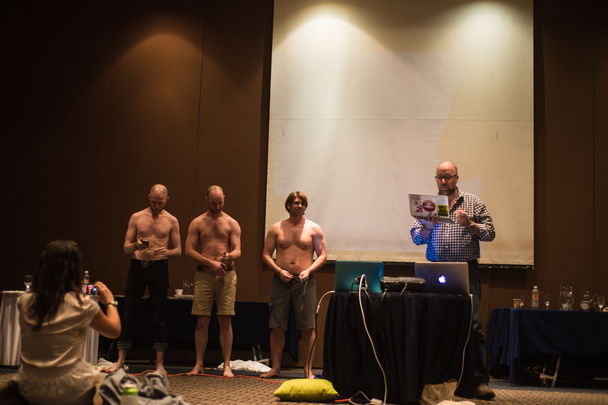 The last thing I learned was that I can be a total brat...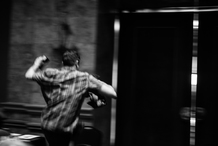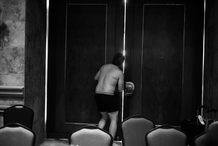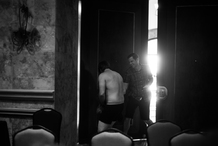 ... and also merciful.  (Huge props to Joel, Brian, Josh & David for their presentation & sorry Josh :)
I have been making a fool of myself since childhood and not to brag, I am getting dang good at it.  I am almost at the point where I don't care what you think of me... almost.  I figure a healthy dose of inhibition is good, but I feel that I am at the cusp of truly being free and I would like to invite you to join me to go the rest of the way.  Stay tuned for the development of "The Power of Looking Stupid: an interactive workshop that inspires creativity, cooperation and fearlessness"  It's based on content from Richie Norton's the Power of Starting Something Stupid and is fueled by improv, comedy and YOU!  TAKE OFF YOUR PANTS! (again, speaking figuratively)