2 Shows Too Funny
Sometimes the best way to find opportunities to do what you love is to create your own opportunities to do what you love.
On May 2, I did just that.  2 Comedy Shows.   One squeaky clean family friendly improv matinee and one stand up show at night for just the adults.   
I love performing stand up comedy and improv comedy.  I love to hear people laugh.   I love to inspire others.   I love supporting the community.  I love collaborating with friends.  I love making new friends.  I love facilitating opportunities to see others do what they love to do.  
What a great day.
"My kids were totally blessed that you put on a show for kids.  Not done too often and they loved it" 
"Totally awesome shows.  Laughed my a** off in both shows" 
"SUPERFUN! Keep planning these things, I'll keep coming"
"It was a great show.  My first comedy event and glad it was yours!"
Special thanks to Abbotsford News, Country 107.1 & the Peak FM for helping us get the word out.  Thanks to Winks & Spruce for selling tickets.  Thanks to the Food Bank for their partnership, their community work, and inspiring us to DO MORE with what we have been given.  My wife, family and friends were a huge boost in working the event: tickets, ushering, clean up up, etc.  Could NOT have made it fly without them.
And then there is the talent:
Marika Siewert: if women could be studs... she's a total stud.  Writer, producer and performer of inspired-pop.  She was also 100% game to support Steven and I in some improv absurdity.  **It turns out that if you feed puppies chocolate, they will die.  It turns out that people would no longer want to come to my chocolate shop if there were dead puppies. It turns out that my neighbouring chocolatier was kind explain this to me and now we can be friends and business partners**  AND all of that ridiculousness was done to sweet music... Thanks Marika!
My brother in law, Steven Krajnyak and I make up the Funny Brothers Improv duo.  How cool is it that I can do what I absolutely love to do with my family? If there is creative enterprise that you can engage in with those who you love and can do so in a mutually beneficial and respectful way... do it!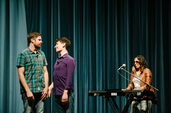 On to 8pm.
Gabriel Gresham: a grade 12 student at WJ Mouat was give the nod to welcome, perform and help with transitions over the course of the day.  It was a crazy move as a producer - he had only performed stand up ONCE before. BUT, as a mentor, it felt right to throw him into the fire.  I was pumped to hear laughter from back stage and can't wait to watch the video to hear what he was actually saying (should I be scared?).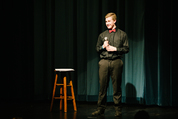 Robyn Roukema: the flying dutchwoman.  Hilarious.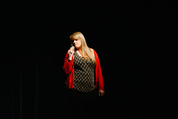 Tia Glenn-Cooke: our Catholic on-line dater.  Hilarious.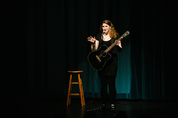 John Cullen:  World Ranked Curler, substitute teacher and beyond amazing headliner... I have seen him several times and without exception ... Supremely Hilarious.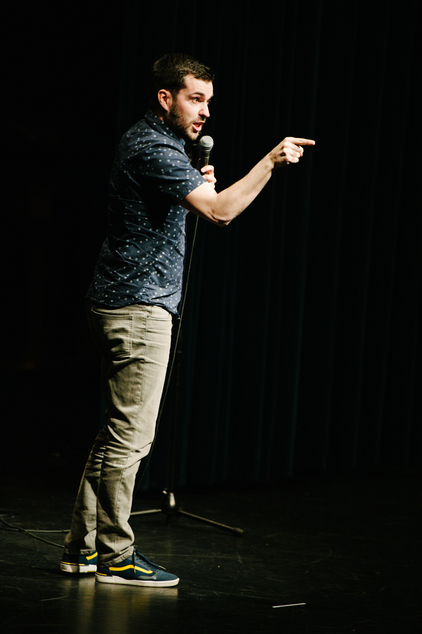 I was so proud and happy to produce and perform in this show.  Thank you for coming!  Oh... you didn't?  Thanks for coming to the next one!